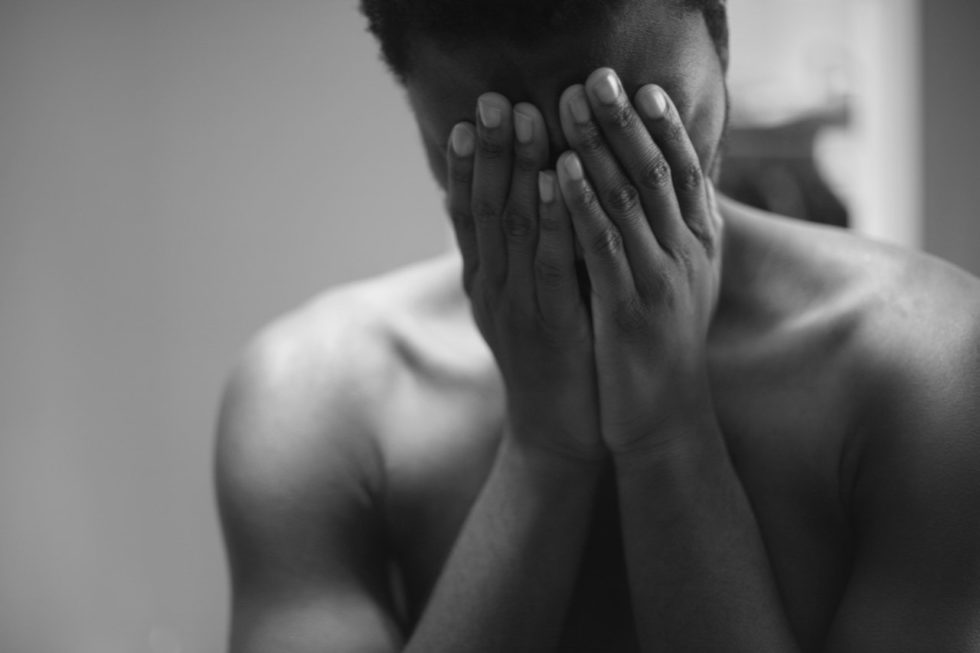 According to a  survey, R.E.M.'s "Everybody Hurts" is the number one song that turns guys into big weepy piles of sadness. Ironically, Michael Stipe cries every time he remembers when R.E.M. used to be all over the radio.
Here's the rest of the list:
1. R.E.M,"Everybody Hurts"
2. Eric Clapton, "Tears In Heaven"
3. Leonard Cohen, "Hallelujah"
4. Sinead O'Connor, "Nothing Compares 2 U"
5. U2, "With Or Without You"
6. The Verve, "The Drugs Don't Work"
7. Elton John, "Candle In The Wind"
8. Bruce Springsteen, "Streets Of Philadelphia"
9. Todd Duncan, "Unchained Melody"
10. Robbie Williams, "Angels"
Some decent choices. "Nothing Compares 2 U" kills me
and "Hallelujah" is moving no matter who sings it. (Even Jon Bon Jovi can't kill a great song.) But "Candle in the Wind"? Really? That song kind of lost something once Elton rewrote it for Princess Di. And if we're talking The Verve, wouldn't "Bittersweet Symphony" make more sense? You know, since it's bittersweet and all? Did Verve fans still sad over group's breakup flood the voting poll?
Clearly there are some notable omissions. So here are my picks for 10 more songs that make guys cry. Tell me what songs completely wreck your guy in the comments.
Bill Withers, "Ain't No Sunshine" (runner-up: "Hope She'll Be Happier With Him")
Nick Drake, "River Man" (Katell Keineg's cover is also gorgeous)
Jeff Buckley, "Lover, You Should've Come Over" (runner-up: "Morning Theft")
Journey, "Only the Young" (What? I'm not made of stone.)
Tori Amos, "Winter"
Bob Dylan, "It's all Over Now Baby Blue"
The Cure, "Plainsong" (runner-up: "Pictures of You")
The Antlers, "Kettering" (the whole Hospicealbum is super depressing)
Jose Gonzalez "Heartbeats" (the original by Knife is also moving)
Cat Stevens, "Father and Son" (far less cheesy than "Cats in the Cradle")
Runners-up:
Johnny Cash, "Hurt,";
"Martha," Tom Waits;
"Roads," Portishead;
"Pearls," Sade;
"Landslide," Fleetwood Mac;
"The Blower's Daughter," Damien Rice;
"Love Will Tear Us Apart," Joy Division;
"Beautiful Boy" and "Mother," John Lennon;
"My Mom," Chocolate Genius;
Neko Case, "Knock Loud";
pretty much every Elliott Smith song but particularly "Needle in the Hay";
"Look on Down from the Bridge," Mazzy Star;
"Wild Horses," The Sundays;
"Challengers," The New Pornographers;
Al Green, "How Can You Mend a Broken Heart";
"Falling Slowly" and "When Your Minds Made Up," Swell Season;
"Don't Give Up," Peter Gabriel;
"Wish You Were Here," Pink Floyd;
"River," Joni Mitchell;
"The Only Living Boy in New York," Simon & Garfunkel;
"Wildfire," Michael Martin Murphy;
"Mother," Danzig;
"My Body is a Cage," Arcade Fire;
"Grandma's Hands," Bill Withers;
"Found a Reason" and "Metal Heart," Cat Power; "Old Man" and "Harvest Moon," Neil Young;
"Sweet Disposition," Temper Trap;
"Such Great Heights," Postal Service & Iron and Wine;
"Svefn-g-englar," Sigur Ros; "Fake Empire," The National;
"What You Want," My Bloody Valentine;
Wild is the Wind," Nina Simone;
"Nothingman," Pearl Jam;
"That's the Way I've Always Heard it Should Be," and "Coming Around Again," Carly Simon;
"Your Ex-Lover is Dead," Stars;
"Suzanne," Leonard Cohen;"Just Like Honey," Jesus & Mary Chain; "Coldest Winter," Kanye West; "Cloudbursting," Kate Bush;
"Songbird," Fleetwood Mac;
"You Appearing," M83;
"Teardrop," Massive Attack;
"One" and "Wise Up," Aimee Mann;
"Everything in its Right Place" and "No Surprises," Radiohead;
"How You've Grown," 10,000 Maniacs;
"Maybe I'm Amazed," Paul McCartney;
most of Nick Drake's catalog and, of course, Ke$ha's "Take It Off"