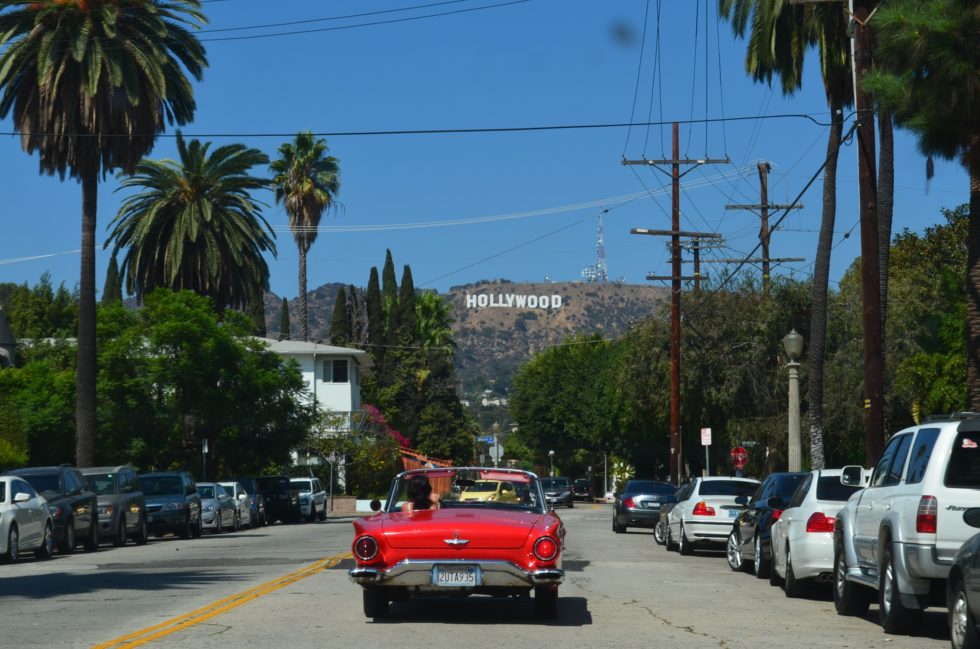 First dates can be boring and awkward. Two people who hardly know each other sit across the table from one another and play twenty questions. Sometimes a date can feel more like an interview for the CEO of a Fortune 500 company by an executive recruiting firm than a prelude to romance. If you're bored with the traditional dinner date, it's time to take dating out of the restaurant and into the outdoors. Doing something 'out of the box' on a date can take the focus off running through the compatibility checklist and put the focus back on having fun. Not to mention, if the conversation is dry or hits a silent patch, you've got other things to do. Here are a few ways to get the fires going in an unconventional way:
1. Paddle Board in The Pacific
In Marina Del Rey or Malibu, you can rent a couple of paddle boards and get out on the ocean. It's affordable, fun and the negative ions will wipe out any first-date negative energy. In Marina Del Rey at Mother's Beach, you can visit Poseiden Stand Up. Rates start at $40 for 2 hours and classes are available at $120 for an hour and a half. Or, drive 15 minutes up the coast to Malibu Surf Shack where boards are $45 for 2 hours; wetsuits an extra $10. For the really adventuresome, take surfing lessons together. Either way, you'll have a whale of a good time, forget all about being on a date and really learn what the other person is made of when they fall off their board and into the brisk Pacific Ocean. Do they laugh or complain? Do they get up and try again or do they quit? You'd be surprised what you can learn about someone when they're out of their comfort zone. After paddling around the bay, have a drink and appetizers on the patio of The Malibu Beach Inn and enjoy the sunset. If your date goes really well, you can always get a room!
2. Horseback Ride in Griffith Park
You don't have to be John Wayne to ride a horse in Hollywood. In fact, you don't even have to know how to ride a horse.  Griffith Park Horse Rentals has something for every level of rider. So dust off the old cowboy boots you bought for that audition or Halloween costume and saddle up for only $25/hour. There's even a sunset ride to a Mexican restaurant for $65 plus the cost of dinner. Griffith Park is one of the largest urban parks in North America with over 4108 acres of natural terrain and exceptional views of Downtown Los Angeles. If your date is a more advanced rider, then check out Hooper Trail Horses a two hour guided adventure starts at $65.00. And hey, if the date turns out to be a dud, at least you got your work out in!
3. Hike to the Hollywood Sign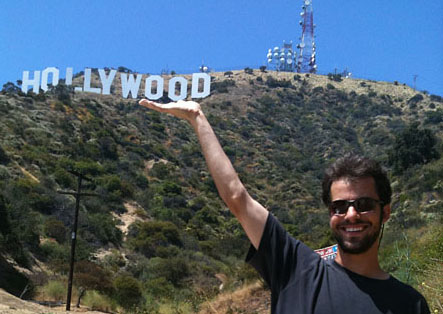 Okay, you must have seen the promotional photos of Mila Kunis and Justin Timberlake sitting on the 'H' of the Hollywood sign in the promotional trailers for Friends With Benefits. Well, you can't do that; it's illegal. But you can hike to the Hollywood sign and get close enough to see just how big it is. Each letter is 50-feet high and 30-feet wide and the entire sign spans 450-fee across the 1675 summit of Mount Lee, overlooking the entire LA basin. This strenuous 5-mile hike is part of Griffith Park and a really novel idea, particularly if your date is a newcomer to the city. Make sure you wear comfortable walking shoes and bring plenty of water and sunscreen, and if you can manage a backpack, bring a blanket and picnic lunch.
4. Follow the Food Trucks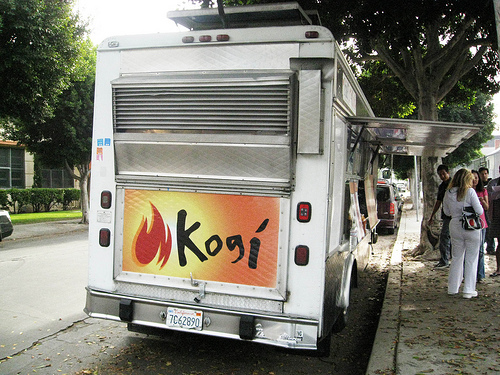 Food trucks originated in Los Angeles and are a growing trend in cities around the US. Operated by local restaurants, they roam various neighborhoods and tweet their locations. During the summer, Concerto Park in Playa Del Rey often has food truck events on Sundays with music and games for children, and the northwest corner of La Brea and Beverly is known year round as The Truck Stop. At lunchtime a gathering of trucks can be found outside the E! Entertainment offices on the Wilshire Corridor in the Miracle Mile area. From gourmet fried-chicken from LudoTruck to Korean barbeque from the KogiBBQ truck to Sprinklemobile cupcakes, there's a truck for every palate. For a fun, interactive evening, hire a limo or Towncar, get a bottle of wine, track your favorite food trucks on Twitter and have the driver take you around town, so you don't have to worry about drinking and driving. You and your date can plan your next course from the back of the Towncar. A few great websites for finding food trucks are: foodtrucksmap and findlafoodtrucks.
5. Go to a Shooting Range
This is another great date for an LA newbie. Nothing says welcome to Los Angeles better than taking your date to a shooting range. It'll either impress or intimidate your date, but it's surprisingly fun. At the LA Gun Club, you can rent a variety of guns for $5-10, buy ammunition, and get free basic firearm instructions and safety training. It's not easy to talk while shooting (it's very loud and you have to wear ear plugs), but afterwards you'll have plenty to talk about, especially if your date has better aim. Might want to think twice about getting into arguments with this person!
6. Attend a Wine Tasting Event
Whether a neophyte wine enthusiast or someone with a distinguished palate, wine tasting events are a perfect first date venue. Learn About Wine offers all sorts of fun wine tastings. They even have the occasional tequila or beer event. You can also check out the classes at CitySip wine bar and wine shop. If the first date goes well, then you could consider a road trip to Santa Barbara wine country or Temecula on a second date, with perhaps an overnight to avoid any drinking and driving (wink, wink).
7. A Night at the Hollywood Bowl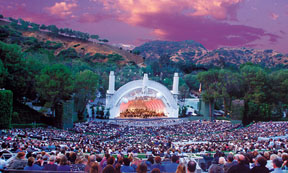 A long time classic Los Angeles experience is an evening at the Hollywood Bowl. Whether it's during their regular concert series or for a special concert, there is nothing more romantic than sitting under the stars, having a picnic and listening to music. With a quick visit to Sur La Table and the Farmer's Market at The Grove, you can pick up a picnic basket, load it full of goodies and be on your way, or you can pre-order your dinner online from Patina Restaurant and have it served in your private box seats. Either way, an evening at the Bowl is a magical experience.
Taking a date out of a restaurant is always a great idea. Having a new experience with someone allows for easy conversation. Plus, doing something new makes you a more interesting person. Worst case scenario: if your date is a dud, you'll have more to talk about with your next date.