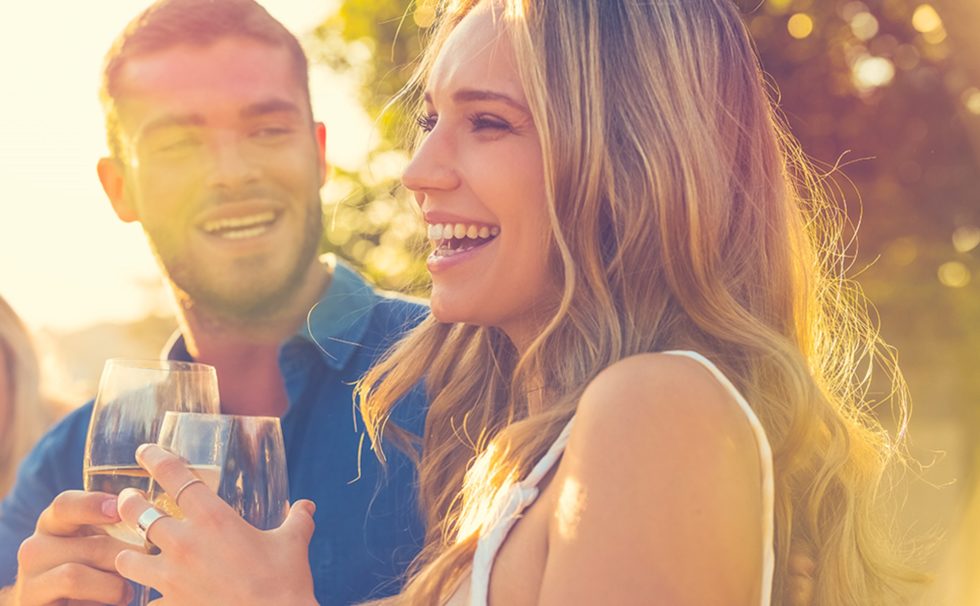 Women complain all the time about guys being assholes, but they only seem to go after the ones who clearly don't give a damn about them—probably because those guys exude a sort of confidence. If you keep getting overlooked for these "alpha males" and don't know what to do, here's how to go from being the shy guy in the corner of the room to the center of attention. Just follow these few simple steps from our friends at Hookupdaters  and she'll be all over you. Satisfaction guaranteed.
1. Fake it 'til you make it.
You don't have to be the best-looking guy in the room so long as you're confident rockin' what you've got. Sure, some other dude might have bigger biceps than you, but that's not everything. Stand up straight, smile, look her in the eye and be flirtatious. Wooing women is very much about body language, so fake confidence until you've got confidence.
2. Look the part.
It's true that when you're feelin' yourself, women will take notice. A good outfit goes a long way both because you'll look fine AF and because you'll exude more confidence. Even if you're nervous about what to talk to her about, you can rest assured that your clothes gave off a damn good first impression.
3. Respect yourself.
Being self assured means that you're secure in your opinions and beliefs. This kind of guy doesn't care what other people think about him and is often hard to manipulate. When it comes to women, he doesn't waste time trying to figure out why a girl hasn't texted him back. Instead, he knows that it didn't work out for a reason, and he's ready for the woman who's right for him. Women love a man with this trait because, when you respect yourself, you respect others.
4. Be decisive.
OK, for this one you do have to say a few words. But it's equally important. If you feel inclined to approach a woman and ask her out, do it. It's important to remember that, if you get rejected, it's not the end of the world. Don't start questioning why you even asked her out in the first place; instead, brush yourself off and try again with someone new. Women love when a man takes initiative—just be sure to have an actual date in mind; don't be the guy to ask her what she feels like doing when you're the one who asked her out.
5. Work on yourself.
Maybe you blame your appearance, slow metabolism or overall shitty game on failed pick-ups, but that's not how attraction works. Success with women has little to do with extraneous circumstances. There is someone out there for you; she just might not have been at last weekend's party. Work on your self-care rituals, personal growth and goals outside of relationships, and your confidence will grow. Be passionate about what you love and it's only a matter of time that the right woman will come crawling to you.
And remember: Women can be just as insecure and self-conscious, so loosen up and just go for it. After all, what have you got to lose?