Call me crazy, but the idea of dropping serious cash on a meal for two just doesn't sound like my idea of a good time.  Though she may appreciate a night out on the town, odds are she's clueless that you just shelled out $15 bucks for a glass of wine that sells for the same price per bottle at the local liquor store.
In my experience, there's probably no better place to show off your sense of confidence and determination to that lovely lady than in your very own kitchen.  Besides, she'll always remember your efforts behind the stove more than that tab at the local restaurant.   After you've assured she's not a Stage 5 Clinger, pick up the phone and have her over for dinner.
With that said, I must confess:   I am not a chef.  Over the years I've listened to the needs of real guys when it comes to food.  Let me guess:  A) you don't have a lot of experience in the kitchen B) you hate reading recipes that look more like a science project than a meal C) your interest in Top Chef begins and ends with staring at Padma.  I've got you covered.
My culinary approach is focused around using quality ingredients and simple preparation to create outstanding meals.  Great meals start with great ingredients.  Instead of investing your time and money on costly marinades and seasonings, focus your efforts on purchasing fresh, quality ingredients.  After that, it's all about reading and following instructions.  For the more experienced, it's okay to improvise.  After all, that's how great discoveries are often made.  However, if your experience in the kitchen is limited to pushing 'start' on the microwave, it's best to stick to the plan I've created below.
Be sure to read through the entire recipe/sequence and have all of your items prepped accordingly before starting.  It's a good idea to make sure your place, including your bathroom, is in order before she comes over.  Have a cocktail, relax, and put on some tunes that will help stimulate topics for conversation.  Remember, girls pick up on every detail, so play that to your advantage even if it means acting like this meal was incredibly difficult to pull off.  Most of all, be yourself and treat her like a gentleman.  Trust me, you will be rewarded.
Spring Mix Salad with Balsamic Vinaigrette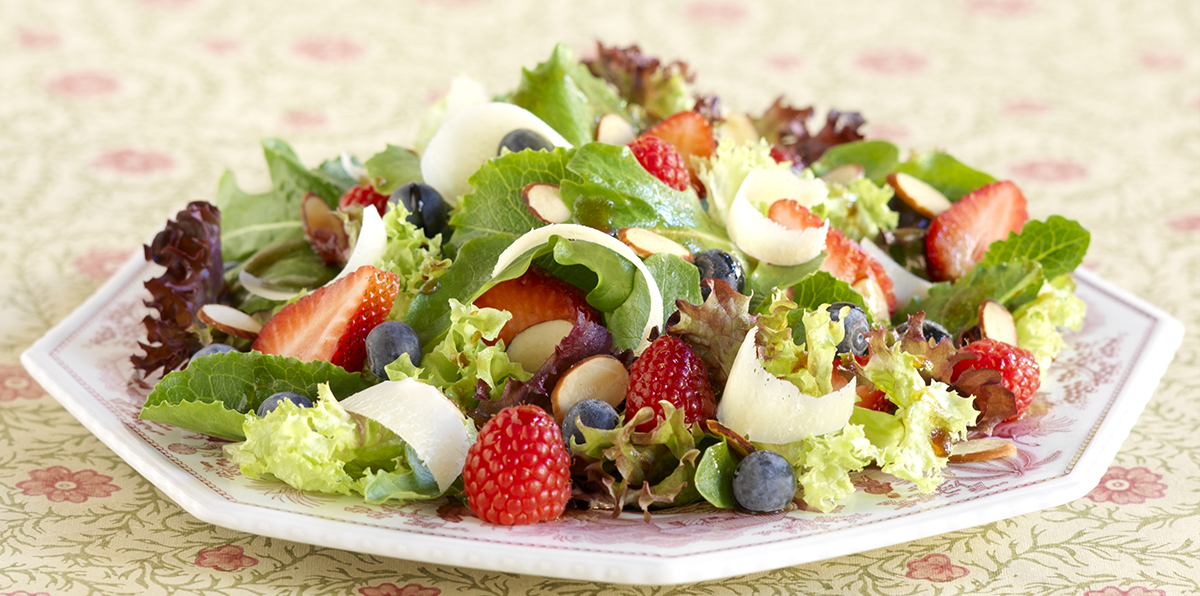 The spring mixed salad blend should be available with the other prewashed and bagged salads in your local grocery store.  A European blend or Arugula blend would make for a perfect substitute if needed.
4 Cups Pre-Washed Spring Mix Salad, loosely packed
6 Cherry Tomatoes, halved
¼ Small Red Onion, thinly sliced
¼ Cup Extra Virgin Olive Oil
1 ½ Teaspoons Balsamic Vinegar
1 Pinch Kosher Salt
¼ Teaspoon Fresh Cracked Pepper*
2 oz Shaved Parmigiano Reggiano Cheese
Combine greens, tomatoes, and red onion into a serving bowl.  In a separate mixing bowl, combine oil and balsamic vinegar and whisk vigorously to combine.  Pour the mixture over the salad and season with salt and pepper, toss.  Using a chef's knife or vegetable peeler, shave the Parmigiano Reggiano into shards.  Top the salad with cheese and serve.
Pan Seared Salmon over Lemon and Basil Spaghetti
A light and clean dish that's sure to satisfy any palate.  Pair with Pinot Grigio, Chardonnay, Pinot Noir, or a light Pilsner.
8 oz Dry Spaghetti
2 Tablespoons Extra Virgin Olive Oil
2 6-8 oz Salmon Filets, skin removed
Kosher Salt
Fresh Cracked Pepper
1 Lemon
2 Cloves Garlic, finely minced
¼ Cup White Wine
2 Tablespoons Capers
2 Cups Baby Spinach Leaves, loosely packed
8-10 Basil Leaves, chopped
Heat a large pot of salted water over high heat.  When water comes to a boil, add pasta and cook until al dente, 8-10 minutes.  Drain pasta and set aside.  Meanwhile add two tablespoons of olive oil into a preheated skillet over medium high heat.  Season salmon filets with salt and pepper and add to skillet.  Cook, undisturbed, 2-3 minutes on one side.  Squeeze the juice of ½ lemon over the top of the fillets, flip, and cook for another 2-3 minutes, or until internal temperature reaches 130 degrees F; remove from skillet and tent with foil to keep warm.  Add garlic into the same skillet used for the salmon and sauté; 1 minute.  Add white wine and bring to a simmer, scraping up any of the browned bits from the salmon using a wooden spoon.  Finally add capers, spinach, and the remaining juice from ½ lemon into the skillet and cook until spinach leaves have wilted.  Add pasta into the skillet with the other ingredients and toss to combine.  Begin plating by placing a generous portion of the spaghetti in the center of the plate.  Top with salmon and garnish with fresh chopped basil.  Serve.