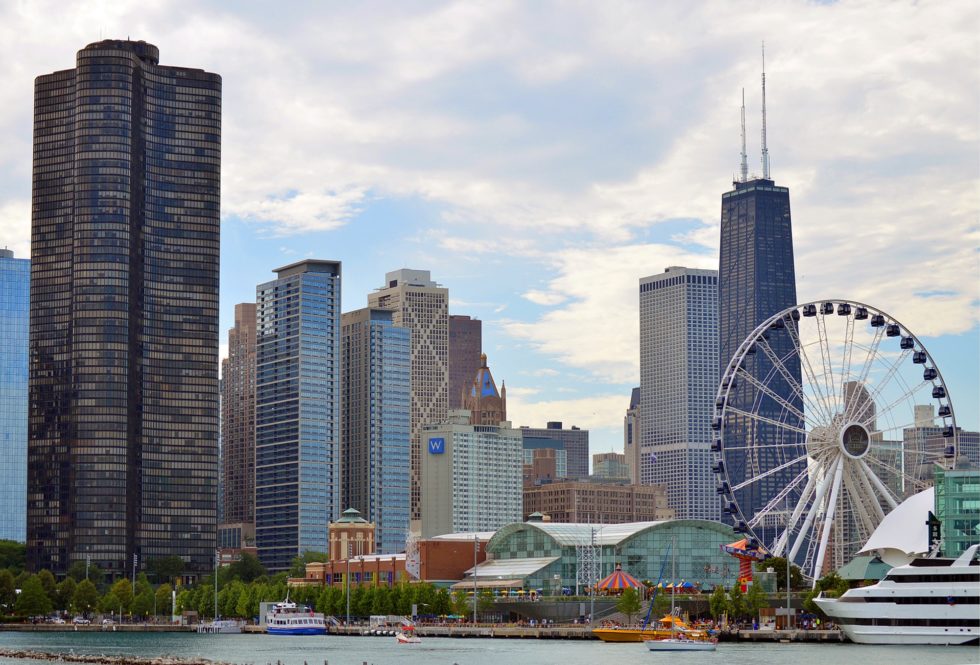 The windy city… seems like, on first glance, a miserable place to visit, right? Wrong! Chicago may be 'windy', but it's also an older, beautiful city that's stuffed with historical value and new, exciting attractions.
Good date ideas in Chicago aren't hard, though you might find some difficulty if you've never been in the city, or don't know where to start looking.
No worries. We've got you covered – here are our favorite date ideas in Chicago!
Wait… Wait… Don't Tell Me…!
Ever heard of NPR (National Public Radio)? Okay, so you probably have – who hasn't? Have you ever listened to their segment 'Wait Wait… Don't Tell Me!'? If you have, you probably realize that it's not only extremely funny, but pretty interesting, and makes you question what's around you.
Well, 'Wait Wait… Don't Tell Me!' is actually taped in Chicago – Chase Auditorium, to be exact – and you can sit in on a taping to test your knowledge. Figure out what's real, what's not, and who's the best, brightest, and most on top in the world of news today.
Their guest panelists rotate, and can be anything from serious journalists to comedians, or even a little of both. It's a great date, and it will leave you knowing a bit more about what's happening… and laughing.
Afterwards, take a drive KiKi's Bistro and have lunch. It's reasonably priced, which is important when you're visiting somewhere and looking to grab lunch on a budget, and the warm, inviting atmosphere adds to classic, delicious cooking and delightful service.
Couples Massage
Relaxing… invigorating… romantic… refreshing… what can you do in a city you've never been to that will be anything like those? Well, this is one of my favorite Chicago date ideas by far – it's a couples massage.
While numerous upscale spas offer this, I'm recommending SIR, which claims that it's Chicago's premier spa service for men. The reason? Not only are their prices decent when you consider what you get with their service, but the date night packages are out of this world.
Not only do you get a massage with your package, but each date night package comes with a complimentary glass of wine, and a hefty discount to a trendy and deliciously romantic dinner at Andersonville.
You can choose between numerous, but my favorites are the 'Signature', which includes a 1 hour massage, a glass of wine, and your discount, 'Hot Stone', which is a one hour hot stone massage, a glass of wine, and your discount on dinner, or the Body and Sole, which is an hour full massage, and a 45 minute foot detail, a glass of wine, and a discount on your dinner.
Oh, and what else is nice about this? Not only do they have your entire evening planned out, but they'll make your reservations at the restaurant… you don't even have to worry about it!
I also asked around and spoke with local Chicagoans about other dog friendly locations in the city and I was surprised to find that there are many! I also found a few pooch friendly places that your dog can act like a dog and get off the streets of the city with all the crowds.
Below are some dog-friendly hot spots:
Hidden Park (not sure of the name) East down Wellington Ave. in Lakeview, which ends at an open park with trees and lots of furry critters running around. You can follow it past the bike path and up to the grassy lakefront. With the waves were crashing and watching rowboats move in the water it really is peaceful for you and fun for fido.
Wicker Park was also a lovely choice. In addition to the great green market, there's a large garden and water fountain.
Ohio Place Dog Park 350 W. Ohio St. Chicago, One of largest designated dog parks in Chicago. It is long and narrow not very wide. It is located along side the Kennedy Expressway between N. Orleans and Kingsbury on Ohio Street. There is a sign that reads "Ohio Place Park" but unless you are specifically looking for it, it can easily be missed.
Grant Park Off Leash Area 500 S Columbus Dr, The park is a large grassy field perfect for playing fetch. The other side of the park has trees, picnic area, and children's playground.
Scoozi 410 W Huron St, this Italian restaurant is a great atmosphere where you can enjoy traditional Tuscany cuisine with your dog at your side.
Dog-A-Holics 904 W Armitage Ave, pamper your pet in style. They offer dog clothing, custom dog beds, gourmet bakery treats, professional grooming, all natural foods, unique collars and leashes, birthday celebration items, fun and quirky gift items and much more to help you and your dog celebrate your special bond.
Conclusion…
There's a ton to do in Chicago. If you're staying at a solid hotel, they'll be able to instruct you on other great date ideas in Chicago. Remember not to plan too seriously, though… be flexible, and leave room to explore everything and enjoy yourself.