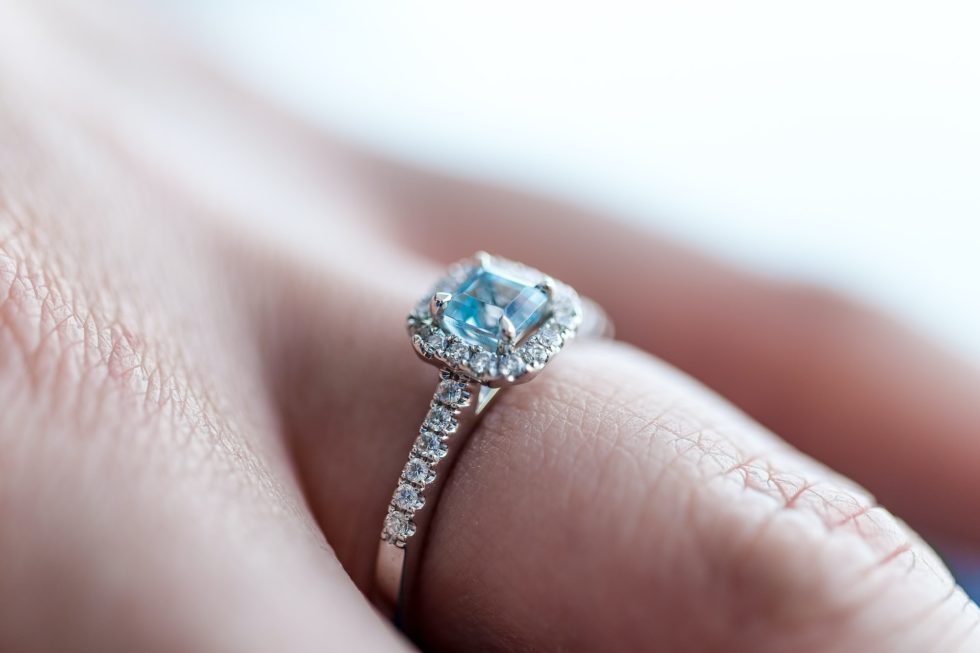 Rocking a pricey diamond for the first time is a lot like babysitting a newborn for women who aren't used to wearing fine jewelry on the regular (which, let's be honest, is most of us). As soon as your bauble is on your finger, you'll start receiving inquiries about how to best care for it: Is it something I should wear to bed? Must I remove it before I hop in the shower? How much is my ring worth? What do you think? Will dish soap really get it clean?
All good inquiries! Since an engagement ring is typically the most expensive piece of jewelry a woman will own, it's understandable that many are unsure how to wear it properly. Here are some helpful hints from those in the know.
Clean It With the Help of Professionals.
Most jewelry stores will polish your jewelry for free. An onsite jeweler will steam-clean your ring and inspect it under magnification to check for loose stones, prong damage, and cracks in the diamond.
Experts recommend having your ring professionally cleaned at least twice a year; in the same way, you would take care of your teeth to maintain its structural integrity and keep it sparkling as it did the first time you wore it.
Keep It On
Keep that sucker snug when it's time to show off the bling. A resizing from your jeweler is in order as soon as you notice your ring sliding or spinning uncontrollably (some spin is normal, but it shouldn't spin without you moving your hand).
Having your ring resized is a regular practice, both after you become engaged and later in life. At certain stages in our life (pregnancy, summer/humid temps, weight gain/loss, aging, etc.), our fingers naturally expand and shrink. Adjust the size of your ring so that it fits snugly right now. In most cases, this is when it goes on easily but becomes inadvertently lodged on the knuckle, requiring some effort to dislodge.
Always Maintain It in a Pristine Appearance.
As part of your regular maintenance, you should wash your ring once every two weeks at the very least. Cleaning your ring regularly helps keep the setting firm and clear of dirt, which is especially important if you want to show it off at the office holiday party while wearing a sparkler.
Traveling with dirty rings? No problem! Soak them in vodka or gin for a fast clean. In a matter of minutes, everything was working like new again! The fact that even Queen Elizabeth II thinks this is a good idea should convince you that it does.
Quick Tune-up
Preventative maintenance for your ring might include having it checked once or twice a year, especially for micro-pave rings or halos with little diamonds and delicate settings. Make an appointment with your jeweler for a quick inspection if you tend to be hard on your jewelry.
Insurance
Immediately get coverage!! Your diamond's GIA certificate and insurance papers should be stored securely. Don't do something crazy like going to the beach or sailing on heavy seas until you have it insured. In a nation with a high crime rate or tourist pickpocketing, it is not a good idea to wear jewelry that stands out. Put your ring back in the safe if you ever end yourself in one of these locations. Use the hotel safe (if available) or invest in a money belt/bracelet with concealed compartments to protect your ring if you must carry it along. Apply some discretion and use your silicon band instead. Don't risk a finger for it.
Safely Save Your Ring for the Future.
Be careful to keep your ring in a secure location while you're not wearing it or when you're away from home on vacation. If you want to keep your ring from becoming scratched, store it in a box with partitions made of cloth. Putting the jewelry box in a lock box or fireproof safe is a good idea.
A Ring Should Not Be Resized More Than Once.
During various life periods, such as pregnancy and postpartum, hands tend to swell and alter sizes. Instead of constantly resizing your ring, put it away securely until it no longer needs to be resized. Even though rings may be resized indefinitely, doing it too often might weaken the metal and cause it to break.
Keep Your Ring Away From Strong Chemicals.
When someone admires your ring, their natural inclination is to place their thumb on the diamond. We understand their admiration, but you shouldn't give in to their efforts to have them wear out your ring. When a person's natural oils come into contact with a gemstone, it dulls and deteriorates in appearance. Grab the ring on the sides instead of the central stone while putting it on and taking it off.
Don't Touch the Keystone!
A gold engagement ring may be significantly harmed if it's unduly exposed to chemicals, even ones in ordinary home cleansers.
In reality, engagement rings would not tarnish or discolor from chemical contact if they were composed of pure 24-carat gold. 24-karat gold is much too delicate to survive normal wear and tear. Thus it is usually combined with other metals to increase its durability. Your gold ring may tarnish or rust if exposed to chemicals because of the other metals included in it. Never use chlorine, salt, bleach, or a "deep cleaning" cleaner.