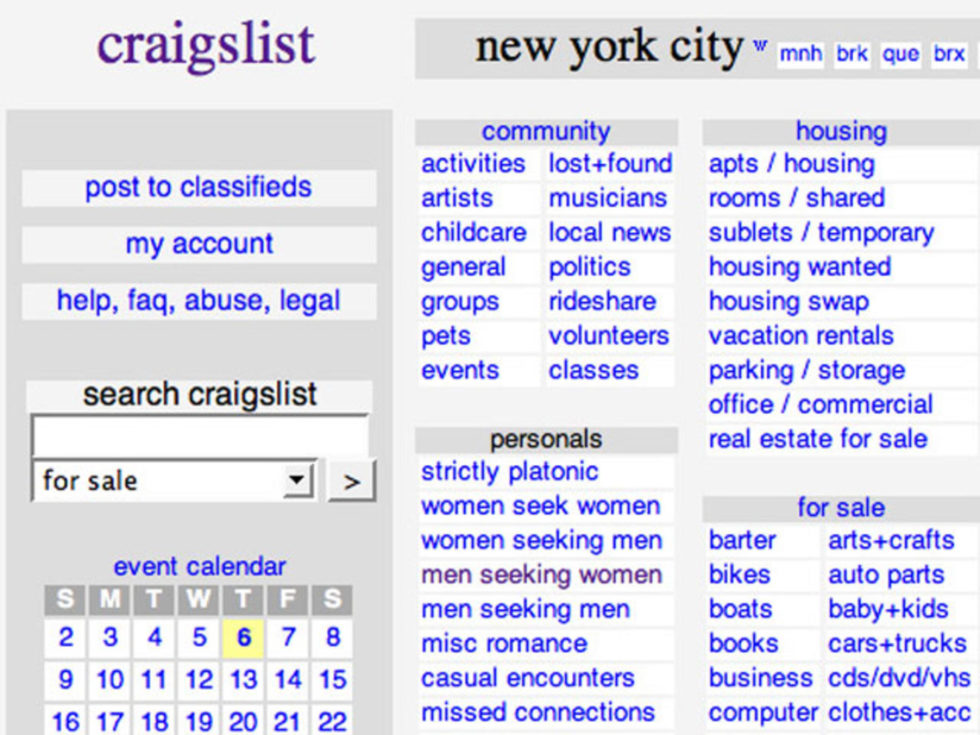 Think Craigslist dating is for low-lifes? Think again. A recent email from a Loveawake  female reader says it's not only great, it's ridiculously empowering. And I'm not at all surprised. While paid matchmaking sites might overall have higher quality clientele (though that's an arguable point), the approach to dating is totally different.
On paid sites, you spend your time scanning profiles, focused on finding the one, while on craigslist the emphasis is on finding a companion for an event, and you simply see who's free.
For instance, you can use Craigslist to find someone for…
drinks tonight?
coffee tomorrow?
concert in the park Saturday?
bike ride or hike on Sunday?
booty call Friday night?
By focusing on the event, you attract people who are interested in doing that same thing, and who are local and available. Forget all the checkbox filtering and song-and-dance prose. Post an ad to do something, then do it.
Sure, there are misfits and neanderthals and spammers who respond to ads, and maybe even some flakes. But they are easily filtered. The rest of the guys responding might just be pretty darn great.
Here's an actual email from a Loveawake female reader (she allowed me to make minor edits for brevity and privacy):
I thought you might appreciate this experiment I did after reading about your Craigslist experiences. I have never even read Craigslist before except for furniture or tickets. But I have an extra ticket to a concert this weekend. A fantastic show, but no date and I didn't want to bring one of my usual friends. It is fall and I need someone to snuggle with all winter.
So you totally inspired me to post an ad this morning on Craigslist saying I needed a partner in crime for the concert. OMG. The response is insane. I didn't even post a pic. A whole book could be written about some of the hilarious responses, but also I'm sure a bunch of interesting dates will come out of this. I found a bunch of music lovers, readers, guys over 30 who seem pretty great . . . is this where all the men hang out now? Craigslist?
Later that night, she wrote me again:
Craigslist dating is really good for the ego and weirdly power trippy. It would be so good for so many women. These guys totally go to try to selling themselves and I did not post a pic. Like hard selling and boasting. Even guys that aren't free that night. All of a sudden things shift to me feeling like I have the pick of the litter. All from three lines on Craigslist.
One caveat – she didn't reveal in her post that she's a single mom. She wonders whether she might have gotten fewer responses if she'd revealed that. But she told guys in followup emails, and the men who were fine with it stayed in pursuit. In fact, one guy she met was a single dad.
Perhaps she summed up her experience best when she wrote:
I've never had guys try to sell me so hard without ever seeing me. Ridiculous, but also a really nice way to cut through to find out who is willing just to meet and see where things go. Remember I didn't tell them I was a single mom. I was just looking for a partner-in-crime to go to a show with, not a life partner. Big difference in attitude.
Bravo! This is not to say any guy on Craigslist would be turned off by a single mom. She's just saying that she presented the concert as a fun event, and had no expectations other than someone attending the show with her. Guys responded!
Keep in mind, even Craigslist dates can turn into interviews. If you go on one, be sure to keep the "let's just meet and have fun" spirit alive… Meanwhile, enjoy feeling ridiculously empowered by this free online dating tool.