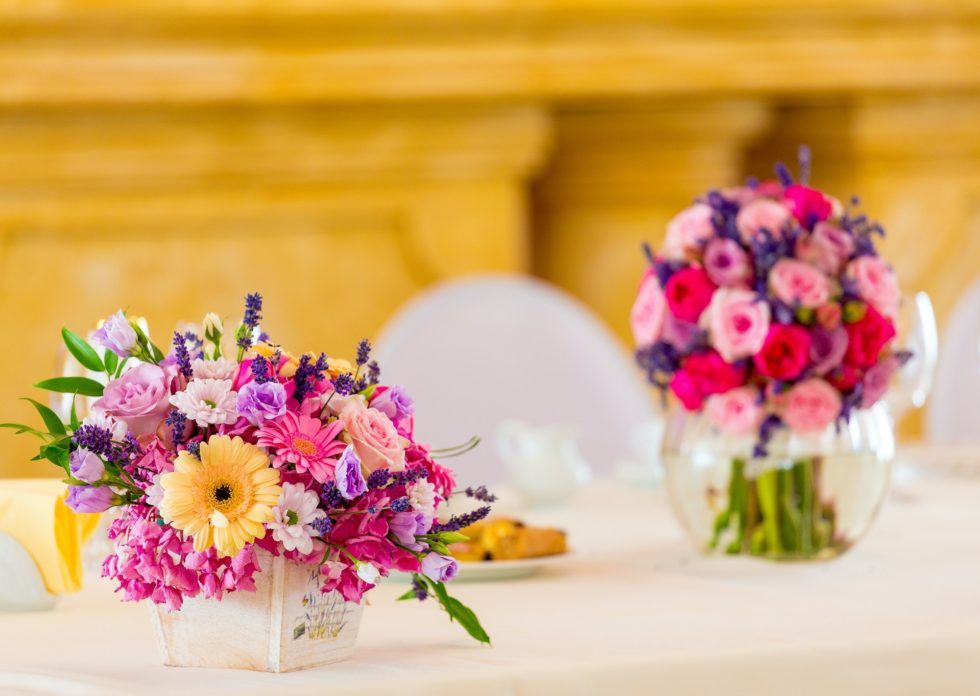 Your 19th wedding anniversary signifies an important milestone & deserves to be celebrated in grandeur & style. Below are some ideas to make your day memorable.
On your 19th anniversary, you might feel that all those years flew by in the blink of an eye. They were filled with dreams, hope, and adventures. You are just one year away from completing two decades together, and that calls for a special celebration and a big pat on your back. It's time to click that pause button in your life and cherish the day of your anniversary together without being troubled about work, kids, pets, or your home. This is what anniversaries are for – to take a break and relive your past together.
However, if it feels like you're always going to fancy restaurants for your anniversary dinner that now feels almost expected and boring and you wonder what to get your spouse as a 19th Anniversary gift, do not fret! From cooking up a storm in the kitchen to spontaneous trips and unique presents, here are some fun and romantic ideas to liven up your annual celebration.
Bronze-colored Gifts
In both modern and traditional times, bronze is the symbol of your 19th wedding anniversary. It represents the strength, resilience, and stability of your relationship after being together for nearly two decades.
Since bronze is the combination of copper and tin, any of these metals would make great gifts. Therefore, if you follow this theme, you can get:
Jewelry made with bronze or in bronze color, either store-bought antiques or handmade (Bronze statement necklaces are popular).
Bronze-colored bookends to bring about an elegant look to your shelf or mantel
Bronze-glazed pottery wine glasses
Bronze belt buckle
A wine or beer bucket made of copper finish
Bronze-colored jewelry boxes and lots more
Rings
Though this is a clichéd gift, it is still appreciable. Rings symbolize your never-ending circle of love and also remind you of the commitment you both made on the day you exchanged your vows.
Each anniversary gemstone represents a different quality or nature of your marriage. Your 19th wedding anniversary is associated with a gemstone called Aquamarine. Legend has it that it brings happiness and peace to a marriage. Therefore, you can select rings with this gemstone embedded in a silver or gold band or any other that you prefer. Or you can replace your engagement rings or wedding bands with something new, such as platinum wedding bands if you don't want to follow the theme.
Cook together/Get a Takeaway
If both of you love cooking or if one loves doing it more often than the other, sign up for a cooking or baking class anyway and learn something new together.
However, if you prefer cooking indoors together, crank up the music and cook up a storm. Or, to keep it simple, you can order your favorite takeout, grab the bottle of wine, and share a good conversation.
Couples' Retreat
Go to a nearby spa place and get a couple's spa treatment, relaxing and rejuvenating yourselves while also enjoying a good conversation.
If you opt to stay inside, you can have a spa night at home. You can give each other foot massages, draw up a warm bubble bath, and watch movies together all in the comfort of your home.
Camping/Hiking
You can go camping or hiking and spend a night in the wilderness in a cozy little tent underneath the moon and stars. It is the perfect idea to unplug from the rest of the world and connect with nature together. How romantic can it get!
Boat Rides and Beaches
The gemstone Aquamarine represents the blue-green color of the sea which is basically telling you to go somewhere tropical. You can set sail on a rented boat or yacht, go beyond the ocean, and watch the sunset together on a tropical beach. So peaceful and serene!
Backyard Movie Theatre
Since you can't go out to the theatre due to the pandemic, you can always create an outdoor movie environment. If you have a backyard, get a projector and screen, or you can set up a fort with chairs and blankets and watch it in your living room.
Brunch
It's your anniversary! It's your day! Stay in and wake up late. Cook and have your brunch together, or you can make breakfast-in-bed for your spouse as a surprise. The smallest things you do for your spouse make a big impact on your marriage.
Take a Road Trip
Hit the road! Go on a spontaneous road trip with no plans in mind. See where the road takes you and where you end up. However, do make sure to take snacks with you and just have a good time.
Check your bucket list
Check your bucket list to see which one you both want to do. It could be paragliding, bungee jumping, skydiving, or anything else you wanted to do but couldn't. Go and take a leap of faith!
Netflix and chill
If you prefer staying indoors for your anniversary, you can get your popcorn and soda ready, turn on Netflix, and binge-watch together the entire day. There's nothing as romantic and peaceful as being together all cozied up in each other's arms.
Bicycle Rides
Go on bicycle riding with your spouse around town and stopover for ice cream or coffee. These simple activities strengthen your bond with your partner and create unforgettable moments.
Click, click, click
You can hire a photographer to capture the moments of this day by dressing up as bride and groom all over again. Or you can ask someone in your family to take pictures of both of you in various locations and different poses.
Karaoke
If possible, you can rent out a karaoke bar and perform for your spouse with friends and family. Or you can set up your own karaoke system at home, and both of you can have a singing competition with your friends and family as audiences. This is perfect for those couples who love to sing and perform.
Scrapbooks, Albums, or Frames
You can get your spouse an album with all of your wedding pictures and reminisce that day together. You can also get them frames to put in their favorite picture.
However, if you want to show how much you care, you can create a scrapbook for your partner with little side notes of the description of the picture or how you felt about your spouse at that particular time. It'll not only be fun but can also bring out tears of joy from your loved one. Be ready with a tissue box close at hand.
Bouquets & Chocolates
In both traditional and modern themes, your 19th wedding anniversary flower is the chrysanthemum. Its different colors carry out different meanings, such as red chrysanthemums mean love and passion. As for pink ones, it means affection, attraction, and romance.
Chocolates are another clichéd gift but still loved by many. They will never go out of style when it comes to giving gifts. Flowers, chocolates, gifts, and a bottle of wine – no anniversary could be better than this.
Personalized Gifts
This includes customized mugs, phone covers, blankets, cushion covers, pillow covers, and so on. You can have pictures of you and your partner on anything you want and surprise your significant other. Be sure to choose the perfect picture.
Outfits
You can get each other outfits from designer brands or get customized t-shirts and have quotes and captions written on them, such as "Mr. And Mrs.", "He's mine; She's mine", "King and Queen" and so on.
Gadgets
If they have broken their phone or lost their watch, getting a new phone or watch would be not only a thoughtful gift but a perfect one. Besides these, there are others such as gaming systems, IPads, e-reader, etc. that are bound to put a smile on your partner's face.
Renew your vows
You can have a small ceremony with close family and friends and relive your wedding all over again. Now that you know each other for almost two decades, you can renew your vows and commit your devotion to one another on your anniversary. You can wear your old wedding dress or buy a new one and have a little ceremony with the people you care about the most.
There's no perfect gift that you can give more than your love, attention, and time. Even if you don't want to celebrate lavishly and keep it simple, no one will think any less of you. This day is about you two, and you should be able to celebrate it the way you want and how you want it. So snuggle up together, binge-watch series and movies, have take-outs or cook a simple meal and have a candlelight dinner, take a trip to somewhere unknown, or just sit back and relax. What matters most is that you two are together for almost two decades and there will be more to come. Cheers!