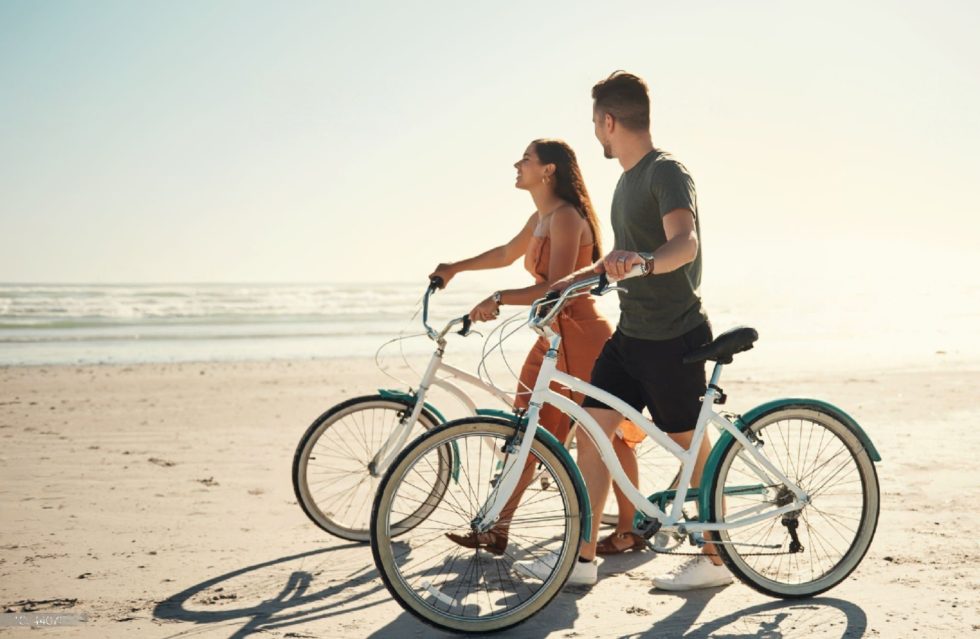 If you are newly married, you must both work at maintaining and strengthening your connection. We've many couples divorcing months or years after their marriage; the main reason is that many stop dating. This creates a gap in their marriage as each person is left to their own devices.
Don't let this be you. Always aim to do fun and challenging activities together. This will strengthen your bond and ensure that you are in tune with your partner in all aspects and will never lack things to keep each other entertained.
9 Activities Newly Married Couples Should Do to Strengthen Their Bond
Couples should discuss and ascertain which activities they love to do together. Don't be that couple that only goes out to dinner or movies; seek thrilling and fun activities that can help you create a stronger bond. And don't be afraid of trying new adventures.
Biking
Cycling is a fun activity with your partner, especially if you ride in the mountains or deep in the forest. Here you can race each other and teach each other new tricks. Your fun will be doubled, and you will be more comfortable with a full-suspension electric mountain bike. This is because it absorbs all the shocks from bumps, ensuring you can ride faster and for an extended period without getting tired.
Yoga
Try yoga if you are looking for a chill activity that will still get your blood pumping and help you get fitter. Many people take yoga as a simple exercise, but the poses will have you sweating buckets and improve your balance.
Yoga also helps you stay grounded as it encourages mindfulness, thus enabling you to form deeper connections with your Partner on an emotional level. Initially, you can enroll in a class, but after you get better, you can practice at home.
Traveling
Is there anything better than discovering new places with your better half? Create a traveling budget and make time to get out and see new places. Travel creates excitement and is a great way to maintain an extraordinary relationship. It also gives you topics to talk about when you are back home.
You can start by exploring your country before venturing into international travel. This gives you enough time to get your finances organized. It also lets you in on some fantastic and scenic spots in your country.
Volunteering
Having a partner that loves to give back to society is mind-blowing as it lets you bask in their giving nature. And you can add to it by joining charity drives. Volunteering together helps you form a stronger bond as it's a meaningful activity that teaches you both to be grateful for what you have.
Outdoor Adventures
Seek out adventurous activities together. Instead of staying in this weekend, drive to the nearest ziplining or bungee jumping spot. This helps you conquer fear, and the thrill of falling down a cliff gives you an adrenaline rush.
Another outdoor adventure you can engage in is rock climbing. However, it would be best to learn using an indoor rock climbing arena before venturing outside. Don't worry; you will have a harness that protects you even if you miss a step. So before starting, ensure your harness is secured correctly.
You can also go skiing during the winter. Nothing is as freeing as sliding down the slopes on your skis with your Partner.
Festivals
Couples should also make time to attend festivals. Many festivals in America celebrate different cultures, art, and music. Research the time and location, book your trip and go have fun. Music festivals are the most popular as various artists always host performances.
Other popular festivals you should make a point of attending include:
Mardi Gras in New Orleans
Coachella Valley Music and Arts
Albuquerque International Balloon Fiesta
Austin City Limits Music Festival
Boston Seafood Festival
Aloha festival
Lollapalooza
Dancing
Dancing is a great way to learn about your partner and will help you meet other couples. Taking a dance class once a week helps break your boring routine and get to hold your Partner as you learn different movements. It's a great way to work out and forces you to make time for each other.
Dancing encourages spontaneity as you can do it anywhere. You may be sitting at home, and your favorite song comes up, so you both stand and start moving, creating a romantic moment.
It will also help you increase your social circle, and it's something that will never go away, even with kids in the picture. And it also forces you to embrace the power of touch, which is crucial in every relationship.
Exercising
Research shows that couples that exercise together have a more fulfilling relationship. Working out together ensures that you create a deeper emotional connection as you both need to be in tune with your movements.
When you exercise, you will become more fit. And for this, your partner will be happy for your achievements, further enhancing your relationship by seeing them happy for your success.
If you start exercising, we all know how hard it is to stay consistent or eat healthily. But, when your partner is your biggest cheerleader, you will push on till you make it a lifestyle. You will also have fun and stay fit together.
Go to a Theme Park
Many assume that a theme park is meant for kids, but adults are also kids at heart. So, plan a theme park date with your partner, go on rides, and scream your lungs out. Don't try to act like an adult; you are there to have fun. And remember to walk through a haunted house.
Final Thoughts
Couples should strive to make their relationships last by creating stronger connections. And this can be achieved if they do things like dancing, hiking, biking, attending festivals, or visiting theme parks. They should aim to have fun while also challenging themselves.