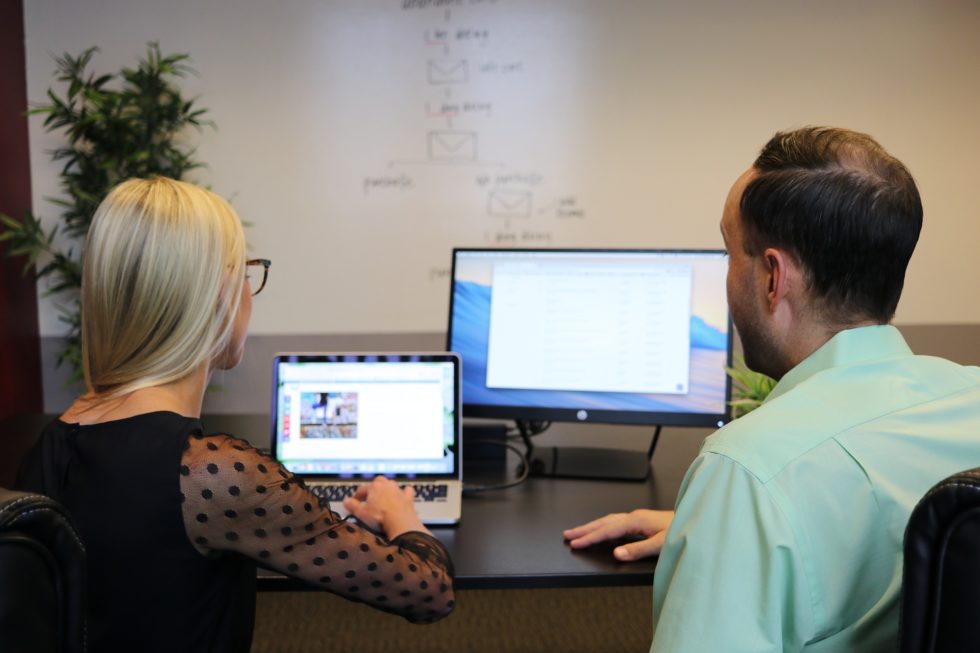 Thousands of dating prospects are waiting online for you. In our age of technology the odds of finding love online has never been greater and true love can be found online! This year alone the New York Times says 1 in 10 Americans are registered with an online dating service. But if you have been using online dating and never gone on a successful date you could be making these common online dating mistakes that you're not aware of. For those of us who are still looking for love are we approaching online dating all wrong?
The Mistakes You Are Making Online
You Post Pictures from Your iPhone or Webcam
When scrolling through men's profiles, their headline picture is the first thing you notice. You make a judgement on their face, their smile and their body all in mere fraction of a second. It's hard to change your level of attraction to this person once you've judged them.
This also applies to your photos with men. If you intend to find love you need to take your dating profile pictures seriously. They represent your first impression to men who are browsing online. If men have to squint to decipher how you look or you post a small blurred image you will be passed over. Men will just assume you aren't good looking and won't contact you.
It's time to discard those phone and webcam pictures. Instead get a friend or hire a photographer to take pictures of you. They will be able to capture the most flattering angles of you which will increase your attractiveness to men leading to more messages.
Post high quality recent photos of yourself. The ideal photos to post include a headshot, a full body, and one where you are dressed up. This gives men a picture of who you are and the dynamics of your personality.
You Expected Him to Tell the Truth
You met in person and his descriptions were misleading. You were duped! He said he was 5'10" but in reality he was at 5'6". His pictures weren't recent. He looked fit and athletic in his pictures but sitting across from you he's on the heavier side.
All of a sudden the excitement you anticipated meeting him just wanes. You were deceived and now you're disappointed. Online dating sucks! What else did he lie about?
Before you judge do a check-in! Haven't you fibbed on your dating profile before? Didn't you post your most attractive pictures that were a few years old? And even lowered your age by a few years to initially attract men?
When it comes to online dating we all want to be given a chance. We want the opportunity to meet in person and not be judged only by our online profile. We justify to ourselves why we fib on our profiles. Wouldn't it make sense that he does the same? He lies online because he sees himself as an insecure person but not untrustworthy.
Lying happens on everyone's profile. It's not right but it is what happens on online dating. Just don't be surprised or upset when it happens.
Your Profile Looks Like Everyone Else's
A generic profile description can describe anyone. What can someone write to you about if there is nothing that makes you stand out from the others? It makes it difficult for someone to write a personalized message to you because you didn't write anything unique about yourself.
Generic profiles generate generic uninteresting messages from men.
When you post your profile be specific and descriptive. People want to contact profiles that show this is a real person and that means including details of who you are and your interests. You want to give men an interesting story of yourself, about who you are and what you are like.
Throw away the grocery list of statements. Be passionate about your interests, say why they are exciting to you don't just list them. Giving men a peek into your authentic self through details will elicit more interesting messages and spark excitement from you.
You Meet for a Coffee Date to Save Time
There are so many men to choose from when you're online dating! Your mailbox is full of messages from men who are eager to meet you.
To save time and energy you go on coffee dates or meet them for happy hour to screen through them quicker. You test the waters this way because you'll probably know whether you want to see him again within the first 5 minutes of meeting him. Why spend more time?
This is equivalent to speed dating because you are concerned with the number of men you meet not with the QUALITY of men you meet. When you play the numbers game in dating you are not properly screening men. You bypass the getting to know you step before you meet in person. You eagerly meet in person before figuring out if he is worthy of your time. This leads to crappy first dates.
The way to enjoy online dating is being selective with who you go out with. Get to know them over the course of thoughtful messages and phone conversations. You are picking out the quality men to go out with and not every and any guy who asks you out. This screening process takes time and thought. But you benefit because you get to go out with one great guy on a Friday night versus a handful of quick crappy coffee dates during the week. Dating becomes more enjoyable and you stick with online dating longer because love doesn't happen overnight.
You Expect Love in 30 Days or Less
Remember that you joined online dating because you are not meeting enough men in real life. If finding love was quick and easy then everyone would be in love. Online dating sites and matchmakers would be out of business because love was easy. But in reality prince charming is not going to magically appear at your doorstep even when you're ready for love. Nor are you going to meet him before your monthly gym membership renews.
Finding the right person is frustrating and can feel hopeless at times. It takes work but remember why you want find love. When you want to find love that lasts a lifetime giving up is not an option. You don't want to be online dating forever but it's unrealistic to expect that you'll meet the one in less than 30 days. Dating is a long-term game until you find the one you want to be with forever.
Applying just one of these tips will make you more successful at online dating. Here's to a happier dating life!